• the Gospel of John •
• John the Evangelist •
---
---
About the Gospel of John
The Gospel of John (Greek: «Κατὰ Ἰωάννην Εὐαγγέλιον») has probably been written at the end of the 1st c. CE, in Ephesus by Jesus' disciple John, or a later writer with the same name.
It is the latest of the four Gospels and differs considerably from the previous three in language and style but also in its theological content and the manner of exhibiting biographical material.
Rather different is also the beginning part. The text does not start with the genealogy and birth story of Jesus or John the Baptist, but with a hymn to "Incarnated Logos".
Certain stylistic characteristics of the text, like the use of theologically laden words, like "truth, life, light", the use of small text units etc. lead some scholars to the belief that the Gospel of John was composed of early Christian hymns which John has adapted to his own vision.
It seems that the basic purpose of this Gospel has been to propagate from the very beginning the divine nature of Jesus and not only his Judaic "function" as the Messias. As "Incarnated Logos" of God, who "pre-existed by God", he has been sent to the people to offer them the possibility of "salvation" and "eternal life" through and within "belief".
The Gospel of John can be divided in five parts; the Prologue (1:1-18), the six miraculus deeds (1:19-12:50), the farewell conversations with the disciples (13:1-17:26), the arrest and crucifixion of Jesus (18:1-19:42) and the appearance stories (20:1-21:25)
You can follow the Greek or English text at "Perseus".
About the audiobook
The recording contains the unabridged Ancient Greek text of various editions.
After purchase you will be able to download the relevant zip file, which contains the audiobook in mp3 and m4b formats.
---

You can listen to a short sample in the following video.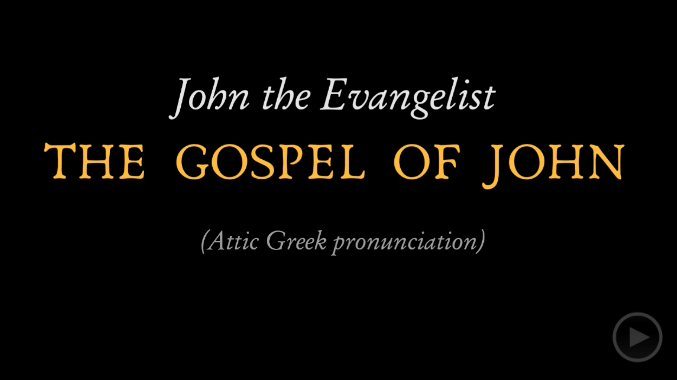 ---