• the Art of Grammar •
• Dionysius Thraix •
---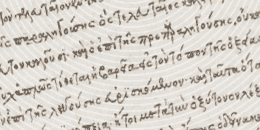 ---
About "the Art of Grammar"
By this otherwise unknown author, we have a short book, coming from sometime in the 2nd century BCE. His work, the Art of Grammar (Gr. «Τέχνη Γραμματική»), seemingly not in its original form, begins with the definition of grammar and its various functions. It touches matters as accentuation, punctuation, letters' and syllables' sounds, exhibiting Dionysius division in eight parts of speech as well as their characteristics and forms. Although he starts by stating the purpose of this Art, we don't meet e.g. any passage about critical evaluation of poetry or speech, as one would expect.

If this work is really by Dionysius Thrax has been doubted by medieval commentators and grammarians. On the other side, the fact that grammarians of the stature of Apollonius Dyscolus and Herodian knew this work in its present form, defends its authenticity, however it might have been altered in later times. From a Hamburg manuscript J. A. Fabricius published it in his Bibliotheca Graeca, VI. Another edition comes from Cirbied (1830), originally from a 4/5th c. Armenian translation, including five additional chapters.

You can follow the complete text online at Wikisource and an English translation at Archive.org
Dionysius Thraix
Dionysius with the epithet "Thrax" (Θρᾷξ) who is traditionally considered the composer of this work, otherwise than his name suggests, was born of Alexandria in the year 170 BCE. The epithet "Thrax" rather points to the region of Thrace, which according to the Suda (encyclopaedia of the 10th c.CE) was the place Dionysius' father lived, although others say it was attached to him because of his hoarse voice, which seemingly characterised the Thracians.
He was a pupil of Aristarchus, the better known librarian of the Alexandrine Library in the 2nd cent BCE, who is responsible for the division of the Homeric epic poems into the 24 rhapsodies' form, still in use today.
Dionysius Thrax left Alexandria spending time teaching Greek in Rhodes and Rome for a living as a "sophist" during the time of Pompey the Great. He also composed "very many grammars, treatises and commentaries". Whether Dionysius alone is responsible for the text is not and cannot be known. He has also contributed much to the elucidation and criticism of Homeric works, also authoring an account of Rhodes, and a collection of literary studies, among others to whom the fragment in the «Στρωματεῖς» (Stromata) of Clement of Alexandria probably belongs.
He lived until 90 BCE.
About the audiobook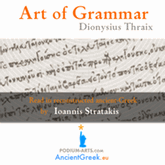 The recording contains the complete, unabridged Ancient Greek text of this work. After purchase you will be able to download the zip file, containing both mp3 and m4a formats. The m4a format offers better sound quality.
---

You can listen to the first two paragraphs of this work, as an audio sample of the present audiobook by watching the video below. Thank you!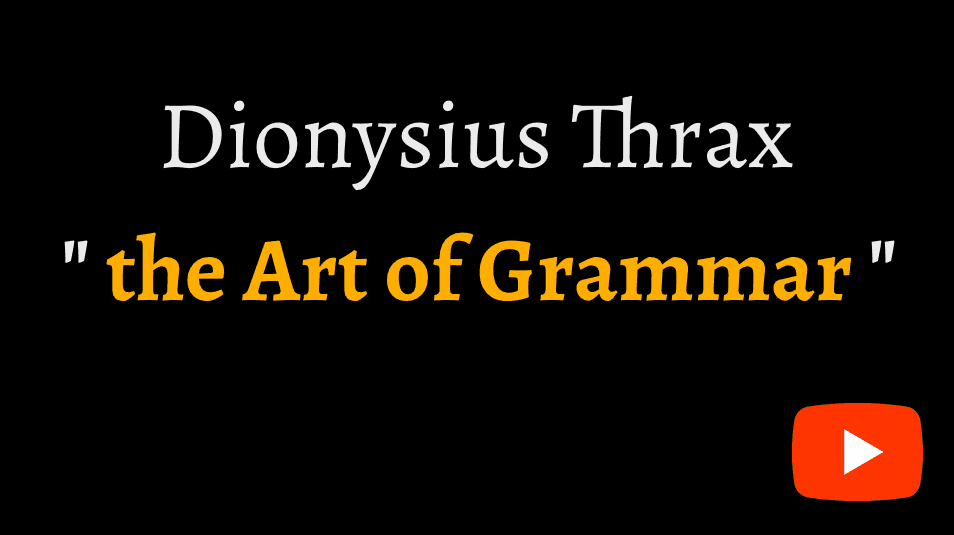 ---