• Iliad 19 •
• Homer •
---
---
About rhapsody 19 of the Iliad
On the dawn of the 27th day of the Iliadic story, goddess Thetis brings the brand new weapons that Hephaestus made to Achilles, who is still mourning his dead friend Patroclus. The goddess drips ambrosia and nectar into the nostrils of the deceased, that his body may remain unaltered, and advises her son to convene an assembly, to reconcile himself with Agamemnon, and afterwards arm himself for the battle.
Following her suggestions, Achilles convenes the Agora of the Achaeans and speaks first; the hero renounces his wrath and asks Agamemnon to immediately line up the army, for he is in a hurry to avenge the death of his companion. The leader of the army in an apologetic style declares himself regretful and ready to make amends, giving Peleides the gifts promised to him the day before by Odysseus. But Achilles is in a hurry; that which prevails for him is vengeance. Odysseus intervenes, arguing that the army should dine first, and Agamemnon must morally and materially satisfy Achilles. Agamemnon's sacrifice and vow follow, while Achilles relents and accepts that everything should be done in order.
After the end of the Assembly, the Myrmidons lead Briseis along with all the gifts to Achilles' tent, where she sees the dead Patroclus and breaks out into a dirge. Meanwhile the Achaeans prepare themselves, having Achilles among them. The poet describes the appearance of the hero, his new armour and the preparation of his chariot with the charioteer Automedon. Achilles is ready to avenge the death of his friend, although he knows that this will bring closer his own end as well. He's also been reminded of this in a "miraculous" way by his horse, Xanthos. The beautiful horse, given human voice by goddess Hera, prophesies the death of the hero. Achilles, however, is determined and rushes into the battle.
Homer
Though Homer doesn't need an introduction, in case you'd like to refresh your knowledge about his life and work, you can read enough in published books, or online by consulting websites like: the Center for Hellenic Studies of Harvard University (using their search field), Encyclopaedia Britannica, the "Living Poets" website, even Wikipedia, Biography.com, or elsewhere.
About the audiobook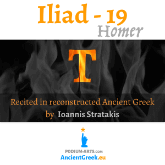 The recording contains the unabridged Ancient Greek text of the 19th rhapsody (ed. M.L. West).
This recitation is trying to find a balance between dramatisation and metrical correctness. I've avoided excess on both sides: not to render it as mechanically rhythmic as it usually happens in educational context on all levels and, not over-dramatise it, as is often needed in live performances in larger venues. I hope this is a proper approach for this medium.

After purchase you will be able to download the relevant mp3 file.
---

You can listen to a short sample in the following video.
---