• Letter to Nicocles •
• Isocrates •
---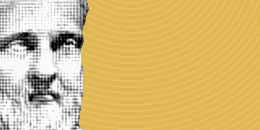 ---
About the Letter to Nicocles
This is the first letter/speech, written in 370 BC, addressed to Nicocles, who became king of Cyprus in 374 BC. It is a hortatory speech, also known as "How a King should Reign" or "the Royal Art", because of its content.
One can hear/read the ideas of Isocrates about the ideal King, what is the right way to rule, that attention should be paid to cultivation of knowledge, as well as love for the subjects.
Isocrates closes the letter by saying that his words might not be anything new, maybe even known to Neocles and he's just compiling them…
An interesting addition to our "management literature"
Isocrates' style is smooth, graceful and clear, having made him very attractive and popular at his time.
You can follow both the original Greek text or an English translation online at the Perseus Library, or at Archive.org.
Nicocles
Nicocles (Νικοκλῆς) was an Ancient Greek king of Salamis in Cyprus, who succeeded his father in 374/3 BC. He died probably together with Straton of Sidon during the revolt of the satraps (362 to 360 BC).
The reign of Nicocles appears to have been one of peace and prosperity. According to Isocrates his kingdom flourished, he replenished the treasury, which had been exhausted by his father's wars, without oppressing taxation, and lived as the model of a mild and equitable ruler. Isocrates praised him also for his interest in literature and philosophy. Theopompus and Anaximenes of Lampsacus present him as a sensually indulgent person of luxurious habits.
Isocrates
Isocrates (Greek: Ἰσοκράτης) was born in 436 BCE and has been one of the most important teachers of the rhetoric art classical antiquity has given us. He was born to a prosperous family and had enjoyed a high level of education. When his family during the Peloponnesian War lost their possessions, Isocrates turned to the practice of Law and worked as a logographer (composer of court speeches) for ten years. However, his great desire was to become an orator. Though, as both his voice and stage presence did not really help him, he decided to become a teacher of rhetoric, thus obtaining great reputation and money. He died at the venerable age of 98.
About the audiobook
he recording contains the complete, unabridged Ancient Greek text of the "Letter to Nicocles".
After purchase you will be able to download the zip file, containing both mp3 and m4a formats. The m4a format is smaller in size (in MB's) and offers better sound quality.
---
You can listen to the first paragraphs of the Letter to Nicocles, an audio sample of the present audiobook. Please, click on the play-button bellow and, if you wish, follow the Ancient Greek text lower on the page, or alternatively watch the video. Thank you!
---
ΠΡΟΣ ΝΙΚΟΚΛΕΑ (§54) :

ἐγὼ μὲν οὖν ἅ τε γιγνώσκω παρῄνεκα, καὶ τιμῶ σε τούτοις οἷς τυγχάνω δυνάμενος· βούλου δὲ καὶ τοὺς ἄλλους, ὅπερ εἶπον ἀρχόμενος, μὴ τὰς εἰθισμένας ἄγειν σοι δωρεάς, ἃς ὑμεῖς πολὺ πλείονος ἀγοράζετε παρὰ τῶν διδόντων ἢ παρὰ τῶν πωλούντων, ἀλλὰ τοιαύτας, αἷς κἂν σφόδρα χρῇ καὶ μηδεμίαν ἡμέραν διαλείπῃς, οὐ κατατρίψεις, ἀλλὰ μείζους καὶ πλείονος ἀξίας ποιήσεις. ...
---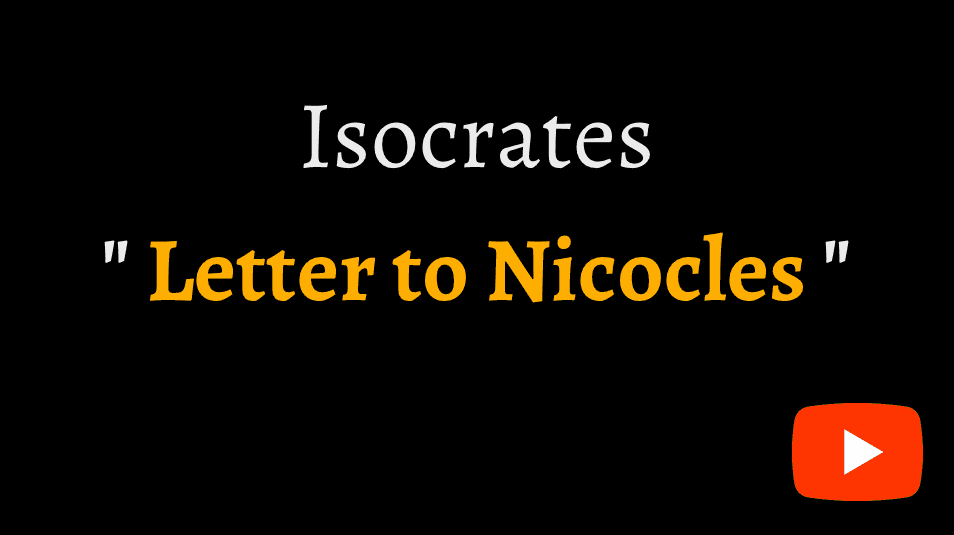 ---