• Odyssey 01 •
• Homer •
---
---
About rhapsody 01 of the Odyssey
Typically for epic poems, the Odyssey also begins with an invocation to the Muse, passing into the protagonist's character and giving us the background of the story: why Odysseus is prevented from returning home to Ithaca. Starting in the middle of the story, we understand that Odysseus is been held captive by the nymph Calypso on her island. Goddess Athena comes before the assembly of the gods, pleading successfully for his release and then flies to Ithaca, in the form of Odysseus' friend Mentes, in order to advise the son of Odysseus Telemachus on the right course of action.
The palace is since years full of uninvited men courting Penelope (wife of Odysseus) and dishonouring the house with insults, albeit living at the cost of the house lords.
Athena hints that Odysseus is alive and shall return, but Telemachus has first to travel to Pylos and Sparta to get information about his father. After Penelope comes to the main chamber asking the bard Phemius not to sing of the grieving heroes' returns from Troy, Telemachus reminds her that it's divine will that keeps her husband away and not the… bard's song. After Athena departs, Telemachus addresses the suitors, asking them to leave the palace, as he wishes to rule over the estate till Odysseus' return.
As the suitors are surprised by young Telemachus' courageous words, a dialogue ensues between him and the suitors Antinous, Eurymachus Telemachus, empowered by the words of Athena/Mentes, establishes his presence and position as someone to be taken into account.
Homer
Though Homer doesn't need an introduction, in case you'd like to refresh your knowledge about his life and work, you can read enough in published books, or online by consulting websites like: the Center for Hellenic Studies of Harvard University (using their search field), Encyclopaedia Britannica, the "Living Poets" website, even Wikipedia, Biography.com, or elsewhere.
About the audiobook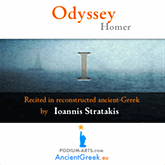 The recording contains the unabridged Ancient Greek text of the first rhapsody.
This recitation is trying to find a balance between dramatisation and metrical correctness. I've avoided excess on both sides: not to render it as mechanically rhythmic as it usually happens in educational context on all levels and, not over-dramatise it, as is often the case in live performances in larger venues. I hope this is a proper approach for this medium.

After purchase you will be able to download the zip file, containing both mp3 and m4b formats. The m4b format is bookmarkable and where applicable divided in chapters for your convenience when listening or following the original text.
---

You can listen to a short sample in the following video.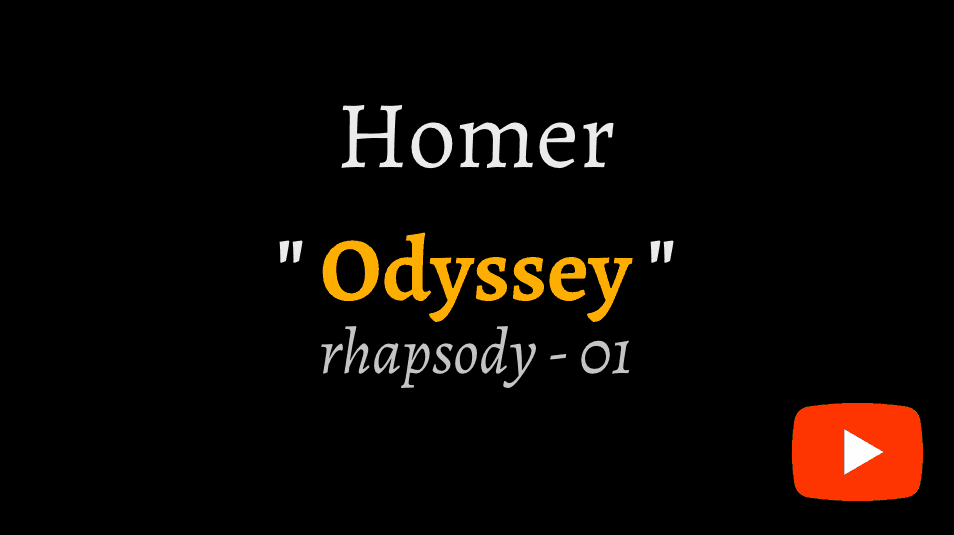 ---