• On Being •
• Parmenides •
---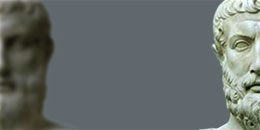 ---
About "On Being"
The only work of Parmenides that has survived to our days are fragments of his poem, all of which are recited in this audiobook in the original ancient Greek text (reconstructed pronunciation).
Though only fragmentary, the poem has intrigued philosophers for many centuries. It forms the base of what is now known as "Ontology".

The beginning describes the first person, the "I" character, being carried away in a chariot moved by mares and driven by the Daughters of the Sun. The chariot reaches the Gates of Day and Night, where the "I" is welcomed by a Goddess, who is kindly explaining in the poem what we call "Parmenidean Philosophy"…

The correspondence between images and symbols in the preamble is a game as pleasant as it is instructive, that in its turn also illuminates the theories revealed through the words of the Goddess and the thoughts expressed in the poem. Some see e.g. in the form of the horses the five senses and based on this, seek a fitting desymbolization of the other elements. Others like to discern a relation of the poetic content with the ancient mysteries and so on. As is often the case, I believe that the value of the work increases, when after coming in contact with it, one goes after their personal interpretation, however partial it might be.

You can follow the original text online at the Wikisource, an English translation can be found at Archive.org.
Parmenides of Elea
Parmenides was born between 540 and 510 BCE in Elea (Velia in contemporary Italy) at that time a Greek colony and died in 450 BCE. He has been an influential Pre-Socratic philosopher, writing and teaching on metaphysical matters. His only known work is a poem in epic form, titled "On Being" a/o "On Nature" "the Poem" recorded here.
More information about his life, work and philosophy can be found among others at Philosophy Basics, Ancient History Encyclopedia, the Pre-Socratics' Summary at Sparknotes, internet Encyclopedia of Philosophy.
About the audiobook
The recording contains the complete, unabridged Ancient Greek text of the poem. After purchase you will be able to download the zip file, containing both mp3 and m4b formats. The m4b format is bookmarkable and offers better sound quality.


---

You can listen to fragments DK28 B1.(1-10), DK28 B5, DK28 B9, DK28 B13, DK28 B19 as an audio sample of the present audiobook, by clicking on the "listen" button below the text. Thank you!

DK28 B1.(1-10)
Ἵπποι ταί με φέρουσιν, ὅσον τ᾽ ἐπὶ θυμὸς ἱκάνοι,
πέμπον, ἐπεί μ᾽ ἐς ὁδὸν βῆσαν πολύφημον ἄγουσαι
δαίμονος, ἣ κατὰ πάντ᾽ ἄστη φέρει εἰδότα φῶτα·
τῇ φερόμην· τῇ γάρ με πολύφραστοι φέρον ἵπποι
ἅρμα τιταίνουσαι κοῦραι δ᾽ ὁδὸν ἡγεμόνευον.
Ἄξων δ᾽ ἐν χνοίῃσιν ἵει σύριγγος ἀυτήν
αἰθόμενος – δοιοῖς γὰρ ἐπείγετο δινωτοῖσιν
κύκλοις ἀμφοτέρωθεν -, ὅτε σπερχοίατο πέμπειν
Ἡλιάδες κοῦραι, προλιποῦσαι δώματα Νυκτός,
εἰς φάος, ὠσάμεναι κράτων ἄπο χερσὶ καλύπτρας.
DK28 B5
…ξυνὸν δέ μοί ἐστιν,
ὁππόθεν ἄρξωμαι· τόθι γὰρ πάλιν ἵξομαι αὖθις.
DK28 B9
Aὐτὰρ ἐπειδὴ πάντα φάος καὶ νὺξ ὀνόμασται
καὶ τὰ κατὰ σφετέρας δυνάμεις ἐπὶ τοῖσί τε καὶ τοῖς,
πᾶν πλέον ἐστὶν ὁμοῦ φάεος καὶ νυκτὸς ἀφάντου
ἴσων ἀμφοτέρων, ἐπὶ οὐδετέρῳ μέτα μηδέν.
DK28 B9
Πρώτιστον μὲν Ἔρωτα θεῶν μητίσατο πάντων
DK28 B19
Οὕτω τοι κατὰ δόξαν ἔφυ τάδε καί νυν ἔασι
καὶ μετέπειτ᾽ ἀπὸ τοῦδε τελευτήσουσι τραφέντα·
τοῖς δ᾽ οὔνομα ἄνθρωποι κατέθεντ᾽ ἐπίσημον ἑκάστῳ.

---