• Fables 084-173b •
• Aesop •
---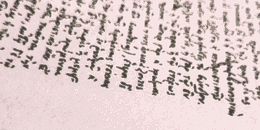 ---
About Aesop's Fables (part 02)
This is the 2nd part of the Halm collection of Aesop's Fables, consisting of 107 stories, in the order of the standard Teubner edition of this work. All Aesopian fables of the collection shall be published in 5 parts. I have chosen to record the readings of this edition, since the Chambry collection (parts which I have published some years ago) needs lots of interesting but distracting philological work, whereto I unfortunately don't have time to dedicate. The new series, when complete totals 529 fables.
Text availability
If you don't have the fables' text at hand, you may visit Perseus (Scaife Reader) offering a beautiful presentation environment and more. The whole 2nd part is HERE. Another option is the Bibliotheca Augustana, although this text contains typing errors here and there... Also the 1889 edition of the Fables by Halm can be read/downloaded for free here.
Aesop
Extended information about Aesop you can read at Wikipedia or preferably in a real book ;-)
About the audiobook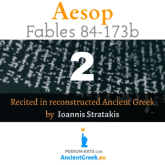 The recording contains the complete, unabridged Ancient Greek text of fables 84-173b, by Aesop. After purchase you will be able to download the zip file, containing the work in mp3 and m4b format.
---
You can listen to fable ####, an audio sample of the present audiobook. Please, click on the play-button below and, if you wish, follow the Ancient Greek text, or alternatively watch the video, which is provided with a quick translation in English. Thank you!
---