• Genesis 01 •
• Old Testament •
---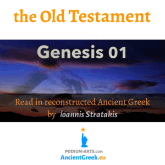 ---
About the Genesis series
Genesis (GR: Γένεσις), the initial book of the "Old Testament" will be published chapterwise in both audiobook and now video format as well.
The original Greek text is been recorded in reconstructed Ancient Attic Greek pronunciation and not in any of the many common Koinè variations today in circulation. I've made this choice since Attic is more standardized and also more widely taught and known.
I hope this series will be fulfilling for those who appreciate and enjoy the ancient text of the Holy Book and helpful for those who aspire to read or even recite its meaningful content.
In the video you can follow the Greek text of "Genesis" chapter 01. Alternatively, those who prefer the audiobook edition can find many places online, like Ellopos or WIkisource.
About the digital formats
The recording contains the complete, unabridged Ancient Greek text of the 1st chapter of "Genesis". After purchase you will be able to download the relevant mp3 audiobook or mp4 video file.
---
You can listen to the first five verses of chapter 1 of "Genesis", an audio sample of the present recording. Please, click on the play-button bellow and, if you wish, follow the Ancient Greek text lower on the page, or alternatively watch the video. Thank you!


ΓΕΝΕΣΙΣ 01
[1] Ἐν ἀρχῇ ἐποίησεν ὁ Θεὸς τὸν οὐρανὸν καὶ τὴν γῆν. [2] ἡ δὲ γῆ ἦν ἀόρατος καὶ ἀκατασκεύαστος, καὶ σκότος ἐπάνω τῆς ἀβύσσου, καὶ πνεῦμα Θεοῦ ἐπεφέρετο ἐπάνω τοῦ ὕδατος. [3] καὶ εἶπεν ὁ Θεός· γενηθήτω φῶς· καὶ ἐγένετο φῶς. [4] καὶ εἶδεν ὁ Θεὸς τὸ φῶς, ὅτι καλόν· καὶ διεχώρισεν ὁ Θεὸς ἀνὰ μέσον τοῦ φωτὸς καὶ ἀνὰ μέσον τοῦ σκότους. [5] καὶ ἐκάλεσεν ὁ Θεὸς τὸ φῶς ἡμέραν καὶ τὸ σκότος ἐκάλεσε νύκτα. καὶ ἐγένετο ἑσπέρα καὶ ἐγένετο πρωΐ, ἡμέρα μία.
---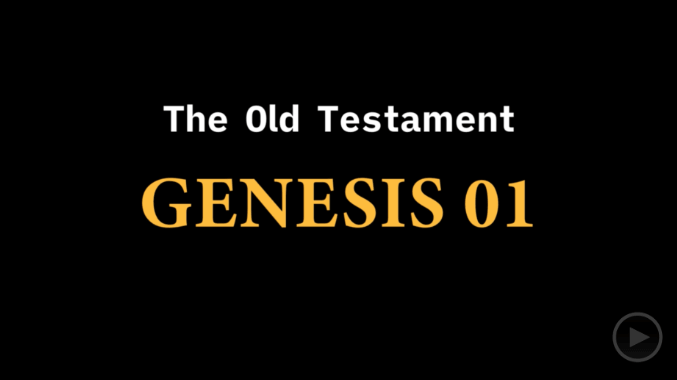 ---