• Fables 25-36 •
• Aesop •
---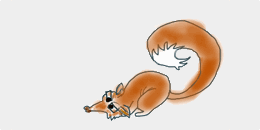 ---
In this third set of Aesop's Fables (nr. 025-036), performed & recorded in ancient Greek (reconstructed pronunciation ) are included the following, according to the alphabetical order of their Greek titles, as listed by Émile Chambry:
Aesop, fables included
025 – Fisherman & big and small Fish
026 – Fisherman & Smelt
027 – Fisherman hitting the Water
028 – the bird Kingfisher
029 – Foxes at river Meander
030 – Fox with bloated Belly
031 – Fox & Bramble Bush
032 – Fox & Grapes
033 – Fox & Snake
034 – Fox & Wood-cutter
035 – Fox & Crocodile
036 – Fox & Dog
If you don't already own it in book form, you can follow the (original Greek) text of this edition by clicking here. It is also the main text used for the recording, with some minor editing, when necessary for correcting obvious orthographical or other mistakes.
Aesop
Extended information about Aesop you can read at Wikipedia
Text & Audio book
The audiobook has been part of a project, aiming to record all the fables in the collection, primarily meant for learners and children, meaning that the narration is slow and rather exaggerated.
Nevertheless, the used text has also not been error free and for this reason, after the 3rd set of fables, the project has been upheld.
The good news is that there's another edition found, which will serve the purpose better in the near future.
You can listen to Fable nr.23 of the 2nd set of 12, as an audio sample of the present audiobook, by clicking below. Thank you!
---
---